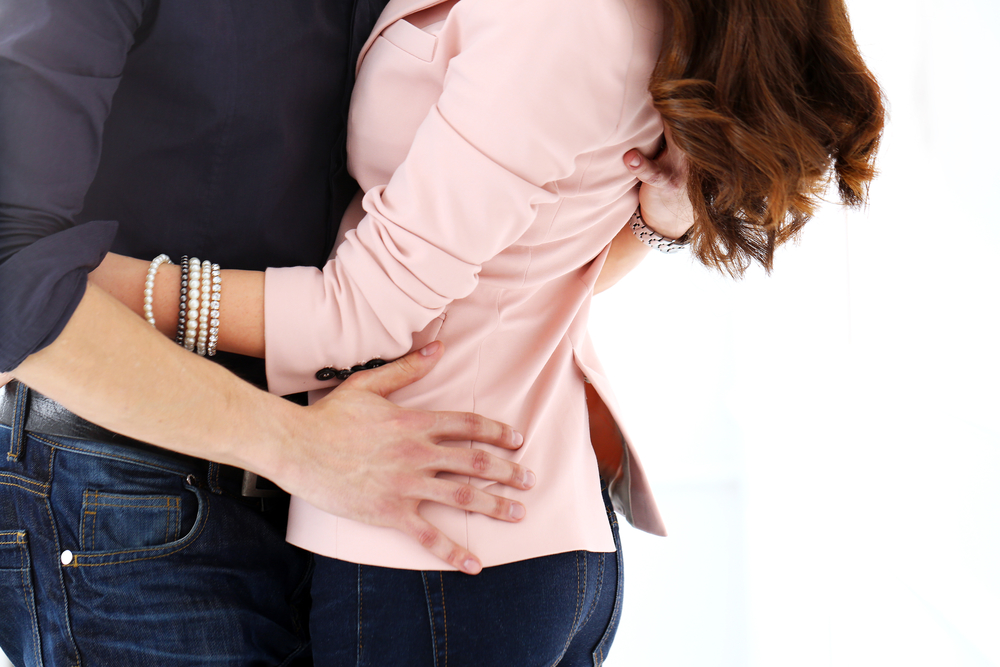 Do you and your husband appreciate what your breasts add to your sexual intimacy?
As Christians, we should be jumping up and down with joy that it was God who first set the tone for arousal in a marriage and the allure of the naked body.
For this reason a man will leave his father and mother and be united to his wife, and they will become one flesh. The man and his wife were both naked, and they felt no shame. (Genesis 2:25)
May your fountain be blessed, and may you rejoice in the wife of your youth.
A loving doe, a graceful deer — may her breasts satisfy you always, may you ever be captivated by her love. (Proverbs 5:18-19)
Your stature is like that of the palm, and your breasts like clusters of fruit. I said, "I will climb the palm tree; I will take hold of its fruit." May your breasts be like the clusters of the vine, the fragrance of your breath like apples, and your mouth like the best wine. (Song of Songs 7:7-9a)
Wowsers!! There's a lot going on in those verses. Anyone who would ever argue sex is for procreation only must have read some bootlegged CliffsNotes version of the Bible. The complete text is a bit more enthralling and sexually generous.
Thank. God.
So in this post, let's talk about a wife's breasts.
Before we do so, though, I want to offer genuine recognition that I know this post may strike a heartbreaking chord for women and couples who have been affected by breast cancer. While procedures and some insurance coverages have come a long way in addressing the disfiguration some women experience from lumpectomies and mastectomies, I in no way want to minimize the impact of breast cancer on a couple's marriage and intimacy.
My heart today is to encourage husbands and wives in enjoying the unique attributes of a woman's body and the potential the breasts have to enhance intimacy. Look at your own circumstances and see if any of the below is encouraging.
So often we think of only the husband being so turned on by breasts, but I must admit that I'm a bit of a boob gal, meaning that my husband's attention to this area of my body can have a profound positive effect on my arousal.
You and your spouse may already know the below tips, but why not read anyway to see if anything new sparks some ideas? I believe you may be inspired.
3 Tips to Consider with the Breasts
1. Be sensitive to when her breasts could be tender.
Depending on where a woman is in her cycle, her breasts may be tender. As a wife, you need to give your husband a heads up about this and encourage him to be more gentle at those times (unless he is so in tune with your cycle that he doesn't need a heads up, and if that is the case, kudos to him. Impressive.)
With the exception of when her breasts may be tender, some wives do like a firm touch and somewhat assertive play with the nipples. Or they may prefer a combination of touches, anywhere from extremely light to firm.
Again, I can't encourage you enough as a wife to express to your husband what you like, even taking his hand and showing him how to touch you.  Assumption is the death of fantastic sex. It just is.  So let's not operate from a place of assumption.  Wives, tell him and show him what feels good in how he touches your breasts. Husbands, ask her what feels good.
2. Enjoy more access with different positions.
If your husband enjoys caressing your breasts and/or you enjoy this as well, then the more access you give, the better.   That means trying different positions, especially as part of foreplay.
No newsflash here, but actual intercourse is only one aspect of a sexual encounter (and in some cases, intercourse isn't always included because of other creative play where you bring each other to climax).
A great position that gives a husband extended time to caress is when he is propped up against a wall with some pillows in a sitting position and his wife sits in front of him with her back to him, leaning against his chest.  Both of his hands are then free for ample caressing as he wraps his arms around her.
Another awesome position is wife on top facing him. Again, both his hands are free and visually this is a delight for him as well, which simultaneously can be a delight for you as a wife.  It's a huge turn on to arouse him, isn't it?  So give him a show. Let him enjoy you visually and physically.
3. Remember, it's not just about the hands.
Sure it's not hard for us to see why caressing the breasts with hands is arousing, but have you explored other creative ways to give and get those touches?  What about gently rubbing your breasts on his penis and testicles?
And what about his tongue and mouth?
For some couples, just the feel of the wife's breasts on his chest when they make love is super arousing for them both.  And definitely a combination of touches at once can up the arousal significantly. For example, oral sex and caressing of a wife's breasts at the same time may make her orgasm more intense. Also, a wife may find that as she touches her own breasts during lovemaking, this could be a huge turn on for both her and her husband.
Sometimes it's not just naked breasts that are alluring, but the discreet and seductive covering and uncovering of them as well.
Some men like to see their wife in a sexy bra. Other men may prefer how attractive she looks with no bra, but a white t-shirt. Or maybe your husband would find it incredibly arousing if you started foreplay with nothing on but one of his unbuttoned dress shirts. There is a lot of creative potential with the breasts, that's for sure.
I think the more confident, intentional and generous a husband and wife grow in their sexual intimacy, the easier it is for them to see God's provision in intimacy.
God could have downplayed or left out all together the potential for breasts to be erogenous, relegating them nothing beyond sustenance for a baby. But He is a God of abundance. And just as sex is for more than procreation, the various features of our body are well designed for more too.
If you and your husband rarely take the time to enjoy how your breasts enhance sexual intimacy in your marriage, how could you grow in this area?  If you already do enjoy this, take the time to tell each other why.  If assumption is the death of fantastic lovemaking, affirmation is the life of it.
If you struggle with body image, check out my list of blog posts at this page. And for even more reading, cruise through my list of past posts. as well as my page with a bunch of posts on orgasm.
Copyright 2019, Julie Sibert. Intimacy in Marriage Blog. Links may be monetized.
Never want to miss one of my posts?  Subscribe via email on this page.  And be sure to join my more than 10,000 followers on my Facebook page and 11,000 followers on Twitter.