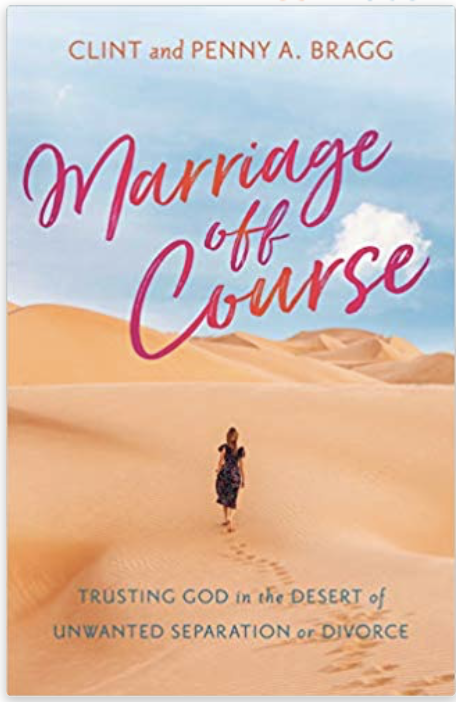 I faced an unwanted separation and eventual divorce several years ago. It was (and still is) the most painful experience I have ever had.
That tragic moment in my life is why I could authentically offer the below praise, which appears inside the cover…
"What a difference it would have made for me then to have Clint and Penny Bragg's book!"
Who among us hasn't been through an unwanted separation or divorce OR know someone who has (or is in that experience right now)?
The need for a biblically-sound book of practical insight and encouragement cannot be overstated.
So often when someone is facing their marriage falling apart, they don't know what to do. What do you do with the waiting, the limbo, and the unknowns?  How do you navigate the messiness of heartache and hope vying for air time within the depths of your mind and soul?
This book is a great resource to speak into that chaos — at the exact time when you or someone you love may need the most.  And lest you think Clint and Penny aren't speaking from their own experience, think again. These two are real to the core and as transparent as can be about their own marriage lost to divorce years ago — and how God used the depth of that pain to do an amazing thing.
What I appreciate most about the book is the practical and Word-based tips on how to navigate the uncertainty of a marriage that is falling apart, especially when you don't know if it will be redeemed or lost.
I've known the Braggs for years and can attest to their humble hearts, caverns-deep compassion and profound ability to walk alongside people in brutally broken places.  Whether they are doing that walking personally with people or through their books and ministry, they help you feel less confused and less alone in the journey.
I hope you will consider grabbing a copy of "Marriage Off Course" for yourself or someone you love — or maybe even to donate to a marriage ministry or counselor striving to help couples in their marriages.
You won't regret it.  A must-read book for sure.
For more reading, cruise through my list of past posts.
Copyright 2018, Julie Sibert. Intimacy in Marriage Blog. Links may be monetized.
Never want to miss one of my posts?  Subscribe via email on this page.  And be sure to join my more than 9,000 followers on my Facebook page and 10,000 followers on Twitter.