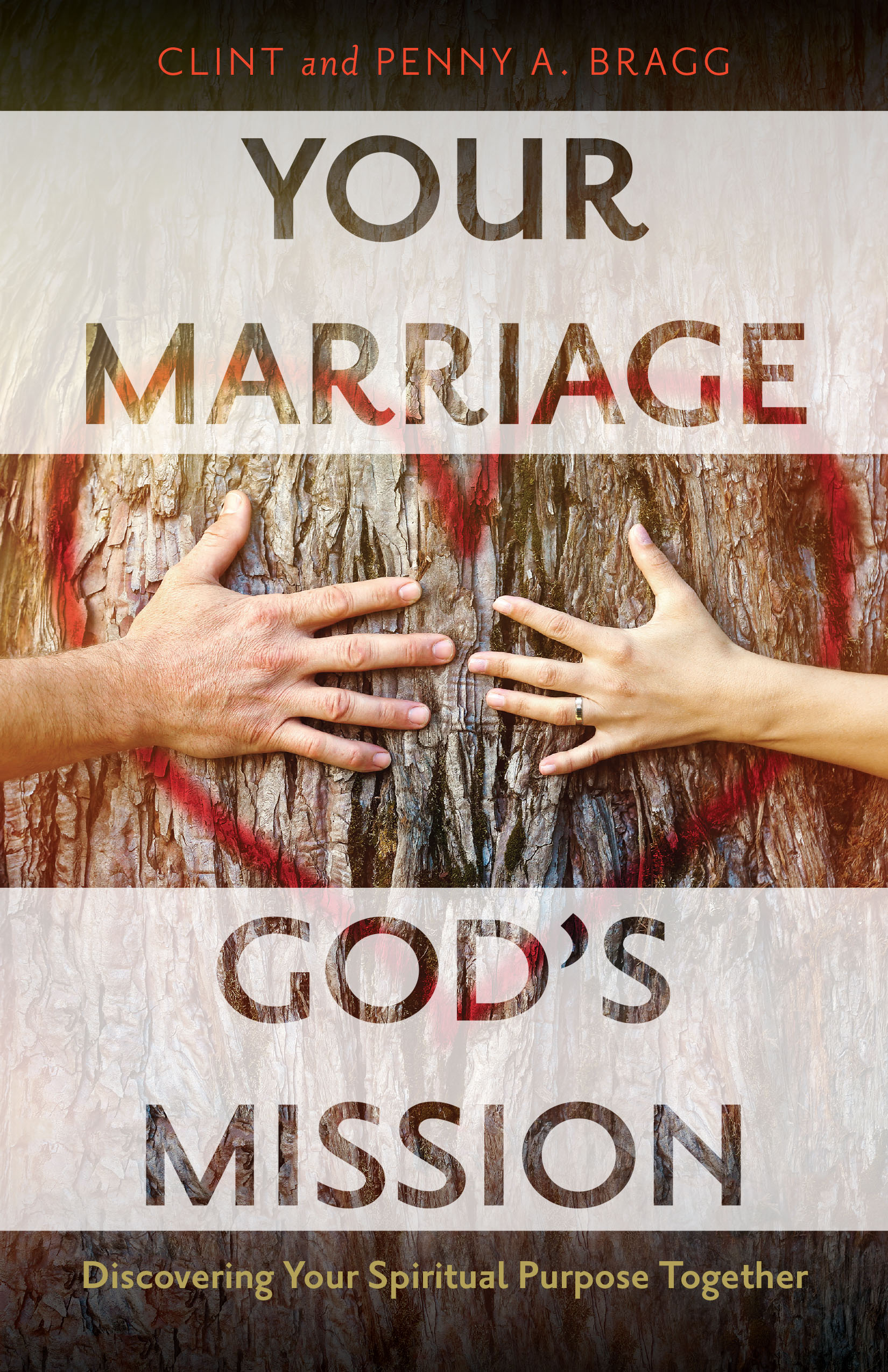 I admit it.
I have a huge crush on Clint and Penny Bragg.
Not only do they have such a deep and tender commitment to helping marriages, they do it from sharing so authentically out of their own story.
I want to tell you about their new book, Your Marriage. God's Mission: Discovering Your Spiritual Purpose Together.
But first I want to tell you about them.
I met the Braggs forever and a day ago at a conference in Texas and was immediately drawn to their genuine realness.  I mean, they are so real.  (Which probably explains my crush. Real is attractive).
They are doing marriage ministry from the undeniable truth that life is messy, and marriage is often messier.
If I could sit on a deck or beach and ramble with my walls down and heart exposed, I'd do it often with them (if only we didn't live hundreds of miles apart!)
Clint and Penny's story is the right mix of reassuring and mesmerizing and "what in the world?!!"
They were your textbook Christians when they first met and married, sporting all the calling cards of a marriage based on Christ — the pre-marriage classes, the praying together, the hunger for God, the desire to serve the Lord together.
And then before they hit their second anniversary, their marriage was well on its way to being over. And then it was over. Divorce papers signed. Separate ways. New lives in different cities.
More than a decade of complete silence. I. Kid. You. Not.
And then.
They reconnected, figured out what went wrong, discovered love again, bravely set out to do marriage again — healthier, wiser, better equipped, more humble, more mature about what was at stake.
Their story has inspired many and it was the fuel behind their first book, Marriage on the Mend: Healing Your Relationship After Crisis, Separation or Divorce.
Since remarrying several years ago, they have dedicated their lives and hearts to helping other marriages.
Their latest book Your Marriage. God's Mission: Discovering Your Spiritual Purpose Together is a deep reflection of not only what it has meant to them to serve together as husband and wife, but also a treasure trove of tools to help other couples find their calling as well.
The book is full of the below and more:
Easy-to-read chapters
Relevant Scripture-based support
Specific steps to apply what you are learning
Key questions to get you thinking and growing
A boatload of personal stories from other couples.  Some of the stories are shared in the book and some you can access through QR codes embedded in the book.
If you have sensed for a long time that you and your spouse need something — a God something — to draw you closer to each other and to Him and to better equip you to serve together, then Your Marriage. God's Mission is for you.
Not long after you start digging into it, you just might have a crush on Clint and Penny Bragg too.  You'll see God at work in them, and you'll start to see Him at work in your marriage as well.
This book has been a labor of love for them. Your Marriage. God's Mission does not disappoint.  But don't just take my word for it.  Grab a copy, read it with your spouse, and discover for yourself.
Copyright 2017, Julie Sibert. Intimacy in Marriage Blog. Links may be monetized.
Never want to miss one of my posts?  Subscribe via email on this page.  And be sure to join my more than 9,000 followers on my Facebook page and 10,000 followers on Twitter.