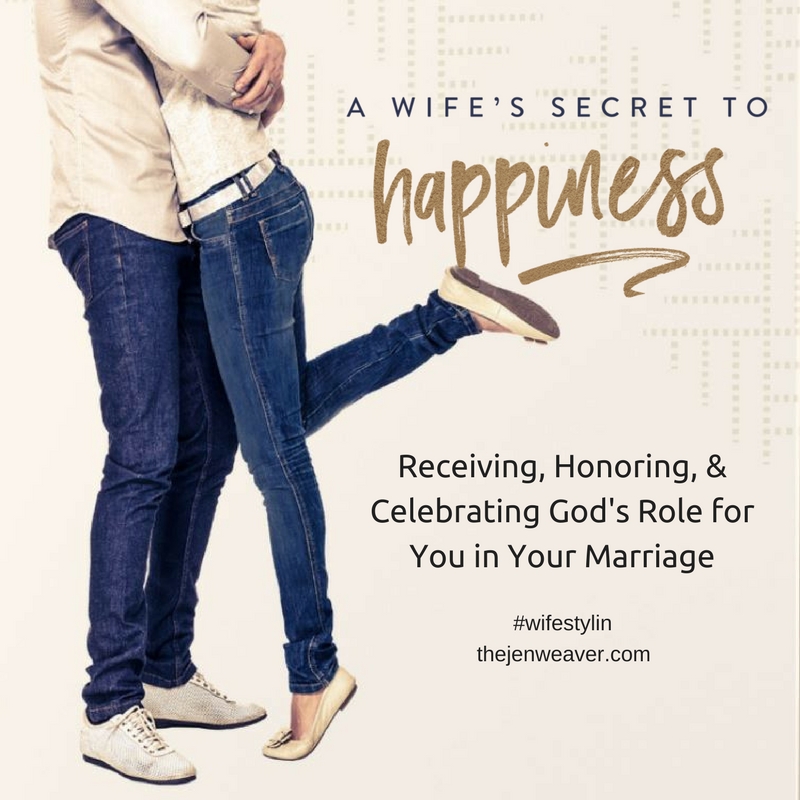 I want to give a shout out to Jen Weaver and her new book, "A Wife's Secret to Happiness."
As I have said oodles of times before, there are so many Christian resources out there from which you can glean. We really don't have many excuses, because with even minimal effort, we can find and apply nuggets of gold to intentionally strengthen our relationships.
Along those lines, Jen's book delivers!
I suggest you grab a copy and seek out the nuggets that will better your marriage.
Today I want to talk specifically about chapter 10 in her book, "The Blessing of Intimacy," the chapter on SEX!
As someone who blogs specifically on sex in marriage, I have read a lot of books on sex. I always am grateful when I come across an insight or encouragement that I believe is vital to the health and foundation of a marriage.
Here are two areas in particular I am glad Jen dove into in this chapter on sex:
1. The spiritual battle
Sex is an incredibly vulnerable place in a marriage where we have the opportunity to not only be physically naked with our husband, but also emotionally and spiritually naked.   To say there is a lot at stake when a husband and wife make love would be an understatement.
It's no wonder that Satan — the stealer of all that is good and holy and beautiful — wants to do all he can to sabotage intimacy in a marriage.
Too often we think that spiritual sexual battles are all about what is happening when sex occurs outside of marriage or the baggage we still carry because of those encounters — that Satan is only interested in how he can leverage our sinful sexual activity.
But Jen does a great job of also pointing out that as married couples, we often allow Satan too much wiggle room in using everyday marriage difficulties to thwart our intimacy.  I loved, loved, loved this paragraph in the chapter:
So here's my question. Has the enemy stolen the blessing of intimacy in your marriage? I'm not talking about what happened before — hopefully you're working through that — but in this present moment, right here and now, would you describe your marriage as sexy, or have you turned your heart away?
She goes on to elaborate how these are heart matters, always heart matters.  How we are responding or not responding to our husband sexually, how we pursue or don't pursue, how we address distance or don't address it — those are heart issues.  And they are places of spiritual battles where God is ready to equip us so that Satan can never have the upper hand.
Your marriage is worth that.  Your marriage bed is worth that.
2. "Mothering" is not a turn on
Oh my. Hopefully, both you and your husband totally grabbed on to that encouragement of "leaving" and "cleaving."  We leave the family of our youth in order to cleave to our spouse.
Long story short, your husband doesn't need you to mother him.  And it might just be a huge turn off if you do.  Jen does an excellent job unpacking this, even sharing from her own experience of how "mothering" her husband was chipping away at their connection.
And mothering certainly isn't going to help you beneath the sheets, as Jen so humorously and accurately shares:
Marital passion doesn't leave any room for mothering tendencies. A wife cannot melt, captivated by male prowess, and wonder if he ate vegetables at lunch.
True that, sister.  Enough with the mothering. It isn't going to do much for sexual intimacy in your marriage.
Throughout the chapter, Jen delves into other vital aspects of nurturing intimacy in marriage, including tips on communicating about sex with your husband and addressing difficulties.  The chapter is full of insights that will encourage you and challenge you to not take for granted the gift sex is for both you and your husband.
Sexual intimacy is an area where God is always calling us to grow, and Jen gives good tips on ways to do just that.
As I have often said, there is no better time than now to invest in your marriage. Grab Jen's book, "A Wife's Secret to Happiness" and learn new ways you can start investing.
Copyright 2017, Julie Sibert. Intimacy in Marriage Blog. Links may be monetized.
Never want to miss one of my posts?  Subscribe via email on this page.  And be sure to join my more than 9,000 followers on my Facebook page and 10,000 followers on Twitter.