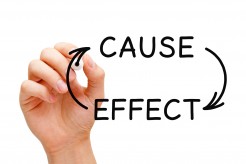 I'm probably going to frustrate a few people with this post.
Or maybe not.  I'm not sure.
At any rate, soldier on in reading, even if you are tempted to stop. Where I am going may surprise you.
Sometimes I hear from husbands who are not interested in sex because their wife has "let herself go" — not shown interest in being healthy, wearing attractive clothing or embracing her femininity.
Sometimes it is wives who are emailing me about their husband who has put on some extra pounds, not paid attention to his grooming like he did when they were first married and stopped embracing his manliness.
And sometimes the emails are from people lamenting not about their spouse, but about themselves, claiming they "let themselves go" and this is the reason for the intimacy woes that are plaguing the marriage.
Whether someone is complaining about their spouse or complaining about themselves, I think this whole "let yourself go" issue is not really the issue.
Because let's be honest.  For the vast majority of people, your body at 40 or 50 is not going to look like your body at 20.
It's just not, what with that thing called aging (not to mention carrying and birthing and nursing the little tykes for us women).
That's not to say you can't aim toward being physically healthy, dressing in appropriately fitting and attractive clothing, and so forth. Yes, this is all well and good.
BUT, the real issue, in my opinion, is your attitude about sexual intimacy and your willingness to have healthy confidence in yourself (not just in your body).
Do you want to know something about those scenarios I shared at the beginning of this post? The ones where I hear from people complaining about their spouse "letting themselves go"?
Those emails by far are a tiny percentage compared to the number of emails and comments I receive, particularly from husbands, who actually have a different quandary.
What torments these guys is their wife has let go of her sexual confidence, despite the husband's repeated encouragement and affirmation.
You see, these men don't care about the extra pounds their wife has put on. And they don't care that she doesn't look like she did when they first married.
What the husband hungers for is a wife who wants to make love, wants to be close and wants to give him the privilege of seeing her naked body.
But she is resistant, even belligerently self-defeating when it comes to nurtured sexual intimacy and sexual passion in the marriage.
The husband isn't hung up on what she perceives as having "let herself go."
She is.
If you are still reading, this may well be your come to Jesus moment as far as what has truly been sabotaging intimacy in your marriage bed.
Maybe you have.  And maybe it has nothing to do with your body.
I hear from countless guys who say that what they find incredibly sexy is sexual confidence.
Given the choice, they would be more excited about a wife who maybe has put on some extra weight and has a few wrinkles YET still has interest and enthusiasm in bed than a wife who looks like a Victoria Secret model YET has zero interest in sexual passion with her husband.
I could do a "man on the street" survey (because, honestly, that sounds like fun). You know where I would arrive with that survey?
That a wife's sexual confidence is sacred ground — thoroughly enjoyed by husbands whose wives exhibit it — and coveted by countless husbands whose wives don't have it (and have no interest in having it).
I'm just not so sure this "let yourself go" argument is really about what we have too often made it about.
I think the deeper issue is about sexual confidence. Not the extra baby weight.
If you're going to let go of anything, let go of this idea that you first have to lose the extra weight or get in better shape before you build sexual confidence.
A better approach just might be to build sexual confidence now.
What do you think?
And for more reading, check out my favorite post on "body image" at this link.
And I might catch some grief for sharing the below video, but it has an incredibly powerful message (warning though, especially for guys, it does contain subtle nudity).
Never want to miss one of my posts?  Subscribe via email on this page.  And be sure to join my more than 9,000 followers on my Facebook page and 10,000 followers on Twitter.
Copyright 2015, Julie Sibert. Intimacy in Marriage Blog. Links may be monetized.