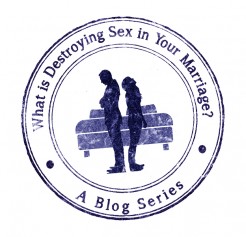 As part of my ongoing guest blog series on things that destroy sex in marriage and what we can do about those things, I today welcome Gaye Groover Christmus of Calm Healthy Sexy.
Such great insights in this post…
Do you often feel too exhausted to be interested in sex? If so, you're not alone.
A study by the National Sleep Foundation found that 25% of spouses say they're frequently too tired for sex, but I'd guess that the percentage is actually higher.
In fact, if I was a betting woman, I'd bet that exhaustion is causing more damage to sex in marriage than anything else. Not because it's the worst problem – clearly things like infidelity and childhood sexual abuse are much worse – but because it's so widespread.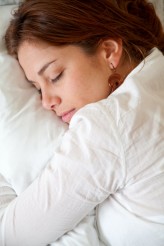 It pervades modern marriage and family life and, in some ways, has become a badge of honor. After all, if I'm so busy that I'm exhausted all the time, it must mean I'm important, I'm needed, or I'm busy doing God's work. Right?
Well, maybe.
But if you're so tired all the time that sex in your marriage is suffering, something needs to change.
And the reality is that the culture we live in has set us up for this: It's created a perfect storm of busyness, stress, and overstimulation that is, frankly, exhausting.
And we've allowed it, by allowing unrealistic expectations, community commitments, electronic devices – even church activities – to rob us of joy, health, and peace of mind.
And then we wonder why we're too tired to focus on our marriages and enjoy sex with our husbands or wives!
If you feel exhausted much of the time and find that you're frequently too tired for sex, here are 5 steps you can take to feel more rested and take better care of yourself and your marriage:
1. Make sex and intimacy a priority.
None of these steps will work if you haven't prioritized enjoying sex and intimacy with your spouse. If you're not sure it warrants that kind of priority, I encourage you to read (this blog is a great place to start!), think and pray about it.
Sex is the thing that sets your marriage apart from all of your other relationships. It's the thing God created to draw you closer to your spouse than any other person in your life. Without it, you and your husband or wife are just good friends who live together, which really isn't what most people want for their marriage.
2. Identify the source(s) of your exhaustion.
Before you can reduce exhaustion, you need to know its source. Extreme fatigue is normal at certain stages of life – settling in at home with a newborn, caring for a sick child, starting a new business. In those cases, it usually passes within a few months (although you can do things to get more rest and feel better until it does).
But much of our exhaustion is self-inflicted. We try to do too much, say "yes" too often, or work too hard to keep everyone happy. We don't ask for help, or maybe don't know how to accept help when it's offered.
Or maybe we just feel better about ourselves if we're always on the go. The source is different for each person, so it's important to figure out what's driving your exhaustion. Only then can you begin working to reduce it.
3. Whether it's you or your spouse who tends to be too exhausted for sex, talk about it.
Work together to figure out a way to prioritize sex and intimacy in your marriage. Figure out what you're thinking and feeling, then share it with your spouse.
When our children were young, I had to figure out that I simply could not work all day and evening on child, house, and job responsibilities and then fall into bed and be interested in sex.
Then I had to communicate that to my husband.
And, honestly, I had to communicate it more than once, because I'm not that great at communication and the things I was saying were completely alien to him! So talk about it and keep on talking until you work it out.
4. Make time and save energy for sex.
On a very practical level, the spouse who is often too tired for sex needs to be proactive about managing his or her schedule and energy. If that's you, you probably need more sleep – at least 7 hours a night.
And you probably need to "schedule" sex a couple of times a week. (Although that sounds so unromantic, not having sex is even less romantic!) Make it a priority on those days, and don't allow other activities to crowd it out.
In addition, be sure to save some energy for it. Don't work yourself to the bone, then fall into bed at 10:00 pm and expect to be rarin' to go! It just won't happen.
Instead, structure your day and evening so that you can take time to relax, connect with your spouse, and focus on allowing your body to feel good. If your spouse is the one who tends to be too tired for sex, be proactive about helping him or her get more sleep, shed some responsibilities, and take time at the end of the day to relax and unwind.
5. Take it for a "test drive."
Once in a while, when you feel too tired for sex, consider taking it for a "test drive." Agree with your spouse to kiss, make out, or fool around for a few minutes. Often that will be enough to pique your interest and get things going in a sexy direction.
If it isn't, agree ahead of time to do something quick for your husband or wife, so he or she isn't left feeling frustrated. This may be particularly helpful for women, who often can't transition easily from mom, homemaker, teacher or professional mode to lover mode without some sort of "bridge" activity.
Your marriage needs regular sex to keep it strong, and you and your spouse both need the fun, joy and connection that regular sex provides.
If exhaustion is ruining your sex life, begin taking steps today to reduce fatigue and reserve some of your time and energy for sex and intimacy.
For more great posts in this series, go to this page.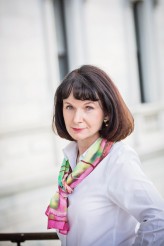 Gaye Groover Christmus is a wife and mom to two almost-grown sons. In her "day job" she works as a writer and editor in a health field. Her passion, though, is encouraging married women to slow down, live with vitality and energy, and create joy and intimacy in their marriages. She believes that small steps can lead to big changes, and that women armed with knowledge and a plan can transform their hurried, hectic lives. Gaye blogs at Calm Healthy Sexy.
Never want to miss one of my posts?  Subscribe via email on this page.  And be sure to join my more than 9,000 followers on my Facebook page and 10,000 followers on Twitter.
Copyright 2015, Julie Sibert. Intimacy in Marriage Blog. Links may be monetized.