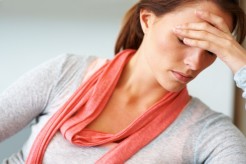 Awhile back I received an email from a reader, sharing that her husband doesn't find her sexy (and has actually said this to her, even though he says he does love her and thinks she is pretty — just not sexy).
What's a wife to do with that?  What would you do with that?
I think this is what I would do…
1. Ask myself, "Does he understand the depth of pain such a statement causes me?"
I know it sounds like I'm just giving the husband the benefit of the doubt, and maybe I am, but I just have to wonder if he genuinely understands how hurtful he's being for even implying such a thing — that he doesn't find his wife sexy.
If by all other accounts he is a fairly decent guy, then it's possible he has a blindspot in this one area about his words with regard to her sexiness.
So, that being the case, it's worthy of the question — or rather, a statement — to him in a clear, yet loving tone.  "When you say I am not sexy, it hurts me and makes me doubt your desire for me."
My hope would be such a statement would be a springboard into more conversation about ways to mutually build desire, affirmation, arousal and intimacy — rather than chip away at it.
2. If I tried to generate conversation and share what hurts me, and he still downplays my pain, I would suggest counseling.
Yeah, I know.  Counseling seems to be the fall-back advice bloggers dole out.  But that's because a lot of marriages could be (and are) helped by it.
There is a reason professional marriage counseling is a huge field of practice. Counselors are schooled (literally and practically) in the idiosyncrasies of marriage. Because they are removed from the situation, they are able to see things that the couple likely can't see.
If your spouse won't go to counseling with you, go on your own.  It will give you a safe sounding board, help you gain ideas on how to address the situation, and demonstrate to your spouse that you are serious about doing what you can to strengthen the marriage.
3. I would dig into God's Word.
When we are feeling "less than" — for whatever reason, be it at the words of another person or our own self-defeating chatter in our heart and mind — the best way to get our feet on solid ground is God's truth.
God says you are enough — that you are beautiful in His sight.  That's not cliche. That's love incarnate.  That's blood poured out. For you.
Any time is a good time to seek Him, but especially when we need to re-align our identity and worth with His truth.  He is faithful in lovingly affirming us and providing Holy Spirit heart conviction where needed.
4.  I would be accountable for me, rather than try to change him.
This is a tough one.  When all is said and done at the end of the day, we land at the reality once again that we can't change someone else.
We can try to influence and facilitate healthiness, but we can't make someone change.
That's true whether we are talking about health physically, emotionally, relationally or spiritually.
One thing we can always control, though, is our own attitude and approach.
There have been moments I have been really angry and disappointed with my husband (and him with me)  No, he has never said I wasn't sexy.  But we have been careless with each other's feelings in other ways.
And when I feel most hurt by him and when our conversation comes to a roadblock, I have learned to step back and take a deep breath.
Ultimately, as husbands and wives, we each will have to give account to the Lord for the ways we have treated each other.
If your husband thinks you are not sexy, speaks that out loud to you (or implies it) and fails to respond humbly when you point out your hurt, then such carelessness is ultimately his to own — even if he won't own it this side of Heaven.
5.  I would lean on safe female confidantes.
I know there are some people who say you should never talk to your friends about your marriage struggles.  I'm just not one of those people.
I do think you need wise discretion about these conversations.  We all need safe havens where we can be real about the depth of our pain.
Just make sure those safe havens are other Christian women who will listen, pray with you and for your marriage, not bash your husband, and continue to point you to the truths of God's Word.
I know what it is like to occasionally feel alone in the frustrations of marriage. It is why I rely upon a few women friends who will let me be raw and real about my disappointment — and at the same time remind me of the sanctity of my covenant with the man I married.
If you are like the reader who emailed me — and your husband doesn't find you sexy — that grieves my heart.  I am sad with you.
And while this post may spur in you ideas to reflect upon, in no way do I want to minimize your pain.  As wives, who among us doesn't deep down desire to be desired by the man we married?
It's such a reasonable and authentic desire.
Never want to miss one of my posts?  Subscribe via email on this page.  And be sure to join my more than 9,000 followers on my Facebook page and 10,000 followers on Twitter.
Copyright 2015, Julie Sibert. Intimacy in Marriage Blog. Links may be monetized.