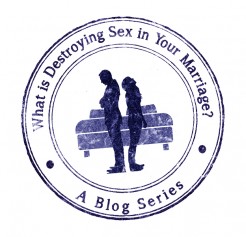 As part of my ongoing guest blog series on things that destroy sex in marriage and what we can do about those things, I today welcome Chris Taylor of The Forgiven Wife.
"Forget the former things; do not dwell on the past." — Isaiah 43:18
When I married my husband, I brought a fair amount of baggage to our marriage bed.
Quite a lot it involved my sexual past – both with my husband and before I met him.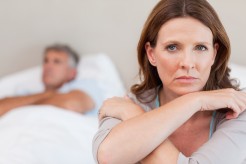 Instead of enjoying marital intimacy with my husband, my marriage bed overflowed with stuff that got in the way:
Guilt and shame.
I felt so guilty and ashamed of the sex I'd had before marriage. These feelings made me feel unworthy of joyful sexual intimacy, so I avoided anything what would give me what I was convinced I didn't deserve.
Negative views about sex.
Sex is for the man. Sex is something you need to keep secret and that you rush to finish. Sex was my only source of power or value to men. The only way to keep a boyfriend was to give him what he wanted sexually. All of these negative views were taking a toll on my intimacy with my husband.
Negative views about my husband.
As the man who wanted to have sex with me for the rest of our lives, my husband bore the burden of the lessons I'd learned about men. I thought he cared only about his own pleasure and not about my whole self or about my sexual pleasure. I thought he valued me only for sex.
Sadly, I am not alone.
A survey I conducted about the effect of premarital sex on women's marriages showed that two-thirds of the respondents thought their marriages had been negatively affected. This was the case even when the woman's only premarital sexual partner was the man she married.
The premarital sexual luggage is pretty full and includes the following:
The feeling that sex is dirty or bad
Expectations of husband based on previous partners
False perception of what intimacy is
The belief that sex is only for the man
A connection between sexual sensations and guilt or shame
The inability to trust husband because he pushed boundaries before marriage
Spiritual and emotional attachment to previous partners, leaving less left for husband
Not understanding that sex is a gift from God
Unwanted memories during some sexual acts
Many Christian wives have found that their premarital sexual activity follows them into the marital bedroom:
Sex feels wrong, so we avoid it.
We are unwilling to express our own sexual desires.
We dismiss a husband's sexual desire for us.
We are unable to embrace the role of sex in marriage and to address problems as they arise.
Fortunately, there is hope for moving past your past!
If your sexual past has overwhelmed your marriage bed, work to loosen the chains holding back your growth.
Focus on the truth.
Read what the bible says about marriage and intimacy. Especially read Song of Songs. Read Christian blogs about marriage and sex. Do a bible study about marital intimacy. Rebuild your beliefs based on truth, replacing the negative lessons that grew out of premarital sexual activity.
Some wonderful resources are Pursuit of Passion: Discovering True Intimacy in Your Marriage, Passion Pursuit: What Kind of Love Are You Making?, and Intimacy Ignited.
Get support.
Talk with your pastor or a counselor if you're struggling to deal with your feelings and beliefs about your premarital sexual activity. If your sexual past includes trauma such as childhood sexual abuse or rape, this support is especially helpful.
Talk with close Christian girlfriends who will listen and give you a hug.
Communicate with your husband.
Share your struggles with him. Ask for his prayer. Read, study, and pray together. (Not only can this help your sexual intimacy, it can also strengthen your non-sexual intimacy.)
If you haven't been truthful with your husband about your sexual past, perhaps now is the time. If your personal sexual history is affecting your husband's sex life, he deserves to know.
Invite god into the healing of your marriage bed.
Repent and seek God's forgiveness—and accept that forgiveness. You are a new creation in Christ. Spend time in prayer specifically for your sex intimacy. God designed sex and wants you to enjoy sex with your husband—so ask Him to work on your heart.
When you bring sexual baggage in your marriage, letting it clutter up your marriage bed can destroy your sex life.
You cannot change the past, but you can loosen the chains it has cast on you.
"You were taught, with regard to your former way of life, to put off your old self, which is being corrupted by its deceitful desires; to be made new in the attitude of your minds; and to put on the new self, created to be like God in true righteousness and holiness." — Ephesians 4:22-24
Be sure to check out the other posts in this series at this page!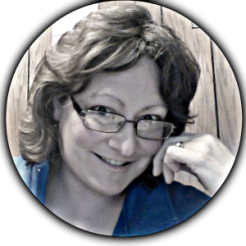 Chris Taylor has been married to her husband Doug for 24 years. They live in southeastern Wisconsin and have three adult kids who are in various stages of leaving the nest. After a fulfilling career in higher education, Chris now writes at The Forgiven Wife, where she encourages women to tend to the sexual intimacy in their marriages. She draws on her own journey of healing to walk alongside other women trying to embrace full intimacy in their marriages. Chris thrives on coffee, knitting, and chocolate; the order of importance varies depending on the day. You can find her on Facebook, Twitter, and Pinterest.
Never want to miss one of my posts?  Subscribe via email on this page.  And be sure to join my more than 9,000 followers on my Facebook page and 10,000 followers on Twitter.
Copyright 2015, Julie Sibert. Intimacy in Marriage Blog. Links may be monetized.