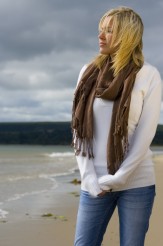 It wasn't until he stopped initiating that it occurred to her something could be wrong.
And it wasn't that she was necessarily concerned he was "getting it elsewhere" (although, she knew that wasn't such a far-fetched possibility, if statistics told her anything.)
Even so, him no longer initiating sex did have her thinking.  Wondering if indeed her marriage was what she had always envisioned a marriage to be.
Wondering if it was what he envisioned it would be.
Anyway. He had stopped initiating sex with her.
And now she began to recall all those times she avoided sex.  Came up with excuses as to why they couldn't make love.  Made him feel guilty for even attempting.
All those times she pulled away from his touch when he crawled in bed. And the times she even snapped at him when he wanted to get in the shower with her.  Convinced herself that he was selfish and insensitive for ever wanting it in the first place.
And what about those times she was too tired for sex?  Yes, there were times she was exhausted. No doubt about it.
But she was often plenty awake to tend to the kids' needs, church activities and her favorite TV shows.  She vaguely remembers him pointing that out.  Something about him always being last (or never) on her "list."
Yes, him not initiating anymore really had her thinking now.
She almost cried when she considered the irony.
Him no longer initiating meant she had arrived at what she implied she wanted — no more sex.  But she felt anything but victorious.
She felt empty.
There was a chasm between them that she couldn't quite name. Couldn't quite put her finger on.  But it stirred just beneath the surface nonetheless.
They did life.  They exchanged pleasantries. They moved through their own agendas and managed to keep things functioning.
Kids got fed.  Bills got paid. Birthdays got planned.  Lawns got mowed.
If there was tension — and in moments of brutal honesty, she could not deny there was — she simply rationalized it away.
"We're tired."
"We're busy."
"This is what happens to all married couples."
It had been a long time — a long time since he last initiated.  So long that she couldn't recall with any clarity the last time they made love.   It was hazy at best.  And "going through the motions" for sure.
She recalled feeling relieved at first when he stopped initiating. She finally could stop feeling anxious about sex.
But now.  Now she started to wonder.
Did she have a hand in the collateral damage in their relationship?  Were they really as close as everyone else viewed them to be?
It felt like forever since they had done anything alone together.
He stopped initiating sex. And in a way, they both stopped initiating everything.
He stopped initiating sex.
And now? She felt anything but victorious.
Copyright 2014, Julie Sibert. Intimacy in Marriage Blog. Links may be monetized.
Never want to miss one of my posts?  Subscribe via email on this page.  And be sure to join my more than 9,000 followers on my Facebook page and 10,000 followers on Twitter.