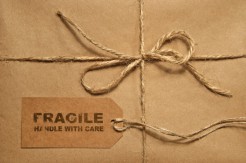 I was talking with a few young people the other day. They were of the "under-age-21" variety, these young ones.
The conversation drifted to alcohol and they said that given the opportunity, they would bypass an alcoholic drink for a "virgin" one without alcohol.
Yes, I turned this conversation to one about sex. I know. You're not surprised.
I couldn't resist saying…
"You should try to have a virgin on your wedding night too."
They thought I was funny.  Well, as funny as a 40-something can seem to hip youngsters.
One of my regular speaking gigs is talking to students in our local public schools about the value of waiting until marriage to have sex.  Wanting to be good hosts and teach these kiddos manners, the teachers have them then write "thank you" notes to me.  Probably forces them to do it, but hey, it's nice to receive them nonetheless.
Here is just a smattering of what these 14-year-olds wrote to me after a recent visit to their class…
"You've really opened my eyes to the reality of the effects of sex. You have definitely confirmed my decision of waiting till marriage. Thanks for coming in and sharing this valuable information with all of us before it's too late."
"Thank you for coming to our school. It makes me glad to know that adults care enough about our generation to take time out of their own days to come talk to us. You taught all sorts of new things, like that the safest way to have sex is to abstain from it until you're married."
"I learned that sex is not only physical, but it is emotional, intellectual, social and spiritual as well. You told us that you have the best sex when you are married. Thanks again for taking the time to talk to us!"
Feels all warm and fuzzy reading the notes.  And honestly, I do think I'm changing the course that some of them would cruise down if they relied only on Jersey Shore or other similar TV programming as their tour guide.
Will they all be virgins on their wedding night?
Probably not.
But I hope some of them will be.
Back when I was an awkward and painfully shy redheaded 14-year-old, I wish an adult would have told me what I tell 14-year-olds today.  Who of us isn't haunted at times by the infamous "I wish I knew then what I know now."
I lost my virginity for all the wrong reasons. Yes, I know there is only one right reason, found somewhere on the flip side of two people uttering the words "I do."
But when you're young, the waters are much muddier and the reasons much more entangled with loose ends.   What I understood about "wrong" reasons and "right" reasons will forever be clouded because I didn't have a lens that revealed to me the only one true reason.
Yes, I lost my virginity for all the wrong reasons.
It would be nice to at least be able to say I gave my body away when I was 18 because I was madly in love with this young man, just a few years older than me.  But that night — orchestrated on the back end of a lie to my parents about my true whereabouts, not to mention at least a couple of rum and cokes — that night really had so little to do with love.
Just to be fair to the man, my regrets now about that night are no reflection of who he was then, but rather a glimpse of who I am now.  Hindsight is indeed 20/20, no doubt.
I had sex that night because I thought that's what people do when they get to my age (the oh-so-wise age of 18?! Really?!).
I had sex that night because two of my friends who I thought clung tightly to their virginity admitted casually to me at one point that it was an ideal they chose to bypass.  I figured if they as Christians couldn't save sex till marriage, what possible hope would I have?  I didn't even know the Lord intimately.
I had sex that night because in a way I thought it just made sense to to let someone else, this man I'd been dating, teach me something he had already been taught.
All. Wrong. Reasons. To give my virginity away.
Even after that relationship ended about six months later, I still didn't have a lens that let me see my body in the light God saw it. Was I reckless?  Probably not by most standards.
But the degree of recklessness matters little. No matter how sexually reckless you or I or anyone else has been, the end result is eerily similar:  Soul ties with lovers to whom we were never supposed to be tied.
I knew so little — virtually nothing — about sex when I lost my virginity.  All that awkwardness, lack of pleasure, not an ounce of genuine understanding of the significance of sex…and all of it within a relatively shaky relationship.
And when I arrived at the altar for my first wedding, I think my sexual frame of reference was as skewed then as it was five years earlier when I gave my virginity away to someone else.
It wasn't until long after the searing pain of my divorce that I began to grasp what sex really means.  By then it was too late, at least for that marriage.
Losing my virginity, as well as all the sexual misunderstanding and behavior that came after that December night in 1988, has taught me much.  Lest you think I'm in self-deploration mode, be assured that I let that ship sail long ago. If you look, you can see it anchored firmly at the foot of the cross.
What I have learned is that sex will never be all it can be unless it is mutually valued and nurtured in the safe shelter of a marriage.  That is where I have landed in my second marriage…with such tender respect and gratefulness for the full potential of sexual intimacy as God designed it.
Whether you lost your virginity on your wedding night… or long before… have you learned something since then?
Though sexual misgivings may wage their battles with us, authentic and powerful sexual oneness in marriage ultimately will lay claim to the victory.  If we let it.
Copyright 2013, Julie Sibert. Intimacy in Marriage Blog.