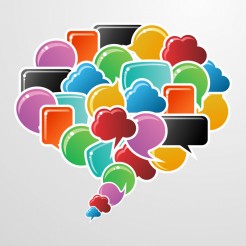 I have a theory.
My theory is that one of the stumbling blocks in so many marriages where sex is a struggle is that those couples have not heard positive messages about sex from other married couples.
It seems that nurtured marital sex is just not a common conversation topic.
Why is that?  And should we be doing something to change it?
As someone who blogs about sex, I recognize that I'm incredibly comfortable talking about sex.
More so than most people, I guess.
I have a friend who contends that I could turn any conversation into one that has something to do with sex.
Not sure if that's completely true, but I'll give my friend the benefit of the doubt.
I do like to talk about all that is good about sex, and I'm not afraid to ask the hard questions when I sense someone is hungry for a safe person to offer them insight.  I'm appropriate, of course, safeguarding the sacredness of the details of my own intimacy that are not relevant to the discussion.
But, I'm not afraid to bring the topic up.
I know that my husband and I are not the only Christian married couple that absolutely loves sex.  Obviously, many of my fellow marriage bloggers also speak favorably of it, which is indeed encouraging.
But what about other Christian married couples who really value sex? You know, the ones who don't blog or work in marriage ministry or are marriage counselors?
Could they — should they — be more willing to speak more openly about why sex is so beneficial and necessary to a healthy marriage?
Sometimes, when couples are struggling with sex in their marriage, I think they have a tendency to isolate — either because they think sexual struggles are "just what happen in marriage" or they have no one in their sphere of influence who can help them envision nurtured intimacy.
Yes, sex is certainly a more sensitive and private topic than other issues that are inherent to marriage.
But think about the length to which ministries, churches and individual Christians go to share wisdom and encouragement about things like finances, parenting, in-laws and careers?
We talk about such topics with ease, not being afraid to ask close friends personal questions about those areas of their marriage.
Why can't we have the same forthcoming attitude and approach in talking to them about sex?
Throughout the Bible, we see where elders are setting an example and training up younger generations as they navigate many of the challenges and opportunities of adulthood.  And in general we also see Christians encouraging other Christians in similar life stages.
Women, you have the opportunity to encourage other women.  Men, you have the opportunity to encourage other men.  How powerful it is when someone struggling can discover they have a Christian confidante of the same gender in whom they can trust.
I truly believe that those of us who take to heart the significance of sex in marriage can build tremendous bridges when we are not afraid to ask other married people in our circle of influence how things are going sexually in their marriages.
Yes, we would have to be discerning of the right timing to bring up such questions.
But can you imagine how those conversations could be just what a couple who is struggling needs?
Areas of sexual brokenness, pain and disconnect could likely be infused with messages of hope, support and prayer.
If you are married and you value sex, will you be courageous to talk about that?
Ask the Holy Spirit to help raise your awareness of moments when you can be a light of God's truth about sex.
I have this theory that if those kind of conversations were happening on a more regular basis across the Body of Christ, we would take back so much of the ground the enemy has claimed in this area of sexual devastation in marriage.
And more and more married couples could embrace the possibility and reality of amazing sex in their marriage bed.
A worthy hope indeed.
Copyright 2012, Julie Sibert. Intimacy in Marriage Blog.