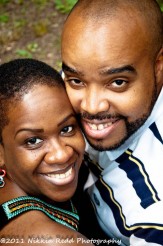 Our post today comes from one of my readers, Zinnada Hodges, who shares so genuinely about her own journey.
This post is so powerful.
If you have ever harbored skewed perspectives about sex, struggled with body image or simply been too tired to have sex, her story will resonate with you.
Through God's guidance and provision, she found a way to embrace and celebrate the beautiful gift sex is in her marriage.  Thank you Zinnada…
Hello, my name is Zinnada Hodges and I have been married for 11 years. My DH and I have 5 children with the oldest being 8-years-old and the youngest 2-years-old.
My husband introduced me to your blog and encouraged me to read it whenever I can.
God has blessed us to be a couple that values sexual intimacy in the way God intended it to be. We are always seeking His word and other biblical edification that will continue to teach and challenge us to minister to one another in a our marriage.
I'd like to share with  you how the Lord is working in my heart and attitude to sexually satisfy my husband.
Pre-converson:
I grew up in the city. My parents loved and cared for me and my older brother. In spite of their love for us, during my childhood and teen years, I saw, explored, and experienced many unhealthy things related to sex.
One of those things that formed my thinking of sexuality was pornography. When I found it, I was taken captive by it. As I got older, I would see it in many places.  Porn was everywhere.
Not only did I deal with pornography, but I was molested during my childhood. I also looked at R-rated movies that were very detailed in showing nudity and other sex scenes.
So, I was exposed to unhealthy sex very early in my life.
Since being exposed to pornography, I did things to arouse myself just as  I saw in the R-rated movies and pictures in the pornography magazines. I also began masturbating after watching the movies. I did all of this at a very young age.
When I became a teenager, I would often do heavy petting and touching with my boyfriends.  Thankfully, I never had a boy enter me. As I look back, the sovereign hand of God protected me from engaging in sexual intercourse.  So, I was a virgin physically, but mentally I wasn't.
Salvation:
One day, I went to a church service and heard the Gospel and that's when I believe I received Christ as my Savior.
As I began to learn more about Christ, His word, and being discipled, I realized more and more the importance of sexual purity and I daily strived to "put to death" sexual sins that I did before I was saved. It was hard and at times discouraging, but by God's grace, I was able to stop masturbating and I definitely stopped looking at porn.
I learned to cover my eyes at certain immodestly-dressed women and I learned other methods and habits that God showed me to help free me from desiring to look at it.
After salvation:
Although, I was exposed to sex early, the Lord protected me from having ill feelings  about it.
As I continued growing in my faith, the Lord blessed me with beautiful godly women who taught me a biblical view of sex — that God made it and it was good within the marriage.
As God was  growing me in my personal relationship with Jesus Christ, I was being prepared to be a wife who saw the beauty of sex which would allow me to be ready and willing to be available for my husband.  My DH has a very high sex-drive and the Lord prepared me to minister to him.
Sex and kids:
When God began to bless us with children, things began to change in our marriage. Nothing drastic praise God, but I was changing. You see, I wasn't happy with my appearance. When my DH and I got married, I was a size 4.  We had 5 children (no twins) from 2003 to 2009, and during this time I became a size 16!!
I vowed to NEVER be overweight. But, I let myself go. I ate a lot, stopped exercising, and didn't have any motivation to change my lifestyle.
Although I gained the weight, my husband still desired me, which at times made it hard for me to want to have sex as much as he did. I made love to him, but I HATED my body!
I was also very tired. After being with the kids, I was simply TIRED! Sex was NOT on my mind, but I forced myself to do it.
After child #5, I came across a challenge. It challenged wives to wear lingerie for 30 days to bed. When I tried it, my husband really loved it. Although it was still hard seeing a large body, I enjoyed seeing him happy and it helped a little with me being more interested in sex.
About a year ago, God gave me the desire to lose the weight. I went from a size 14 to a size 7/8. Since I  lost the weight, God has given me a greater zeal to show off my body to my husband. Exercise and time to unwind have given me the energy to have sex.
I've come a long way with sexual intimacy issues and I'm still growing.
But I have the desire to share what I've gone through and how the Lord has brought me through. I posted on Facebook one of your posts, Happy husbands come from Wives who put out. From that came a facebook group called "Relationship Talk For Christian Women, Married and Single" where we discuss different topics related to relationships for married and single women.
So, that's my story. I hope that I can challenge and strengthen other ladies in the faith.
Thank you so much, Zinnada, for being real.  Your story does encourage other women!  I have no doubt that many parts of your story will resonate with so many readers.
For all you reading this, if you can relate to Zinnada's story, please have the courage to comment… not only to affirm her in her journey, but also to shed light on the way God moves in our lives when we ask Him into our deepest pains and regrets.