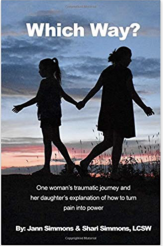 Shari Simmons and I were mere acquaintances as high school classmates, sharing a few classes, but never connecting in the three decades since graduation day.
God sometimes has a way of crossing paths again, though, and I am better for it. And I believe you as my readers will be, too.
I was having dinner recently with another classmate, who told me that Shari and her mother Jann had written a book about the horrific abuse Jann experienced as a child and young adult. Intrigued, I immediately ordered their book, "Which Way? One Woman's Traumatic Journey and Her Daughter's Explanation of How to Turn Pain Into Power."
I could not put the book down. Seriously. And I knew I wanted to reach out to Shari and find a way to shed more light on the work she and her mom have done. I have no doubt God is using this book to speak into the hearts of those traumatized by physical, emotional and sexual abuse.
This book is unique in that not only does Jann share vulnerably about the horrific abuse she suffered, but Shari also offers her perspective as a licensed clinical social worker with vast experience in helping adolescents over her 28-year career.
This is a profoundly personal book overflowing with the courage and effort it takes to heal from the pain of the past. Whether you are an abuse survivor, a loved one of someone trying to heal or a counselor, I deeply believe this book is well worth the read. Jann and Shari are such an authentic writing duo, and their willingness to share their story with the world in the hope of helping others is commendable. 
Shari and Jann have been gracious enough to answer some questions I had.  Below you will find their answers. Be encouraged and be sure to grab a copy of "Which Way? One Woman's Traumatic Journey and Her Daughter's Explanation of How to Turn Pain Into Power."   
To find out more about the book, as well as having Shari and Jann speak for your conference, retreat, church or organization, go to www.ShariSimmons.com.
1. What was the hardest thing about writing the book?
Shari — Writing Which Way? was bittersweet for both of us. The most difficult part for me was having to delve into the details of my mom's story. While I knew about her childhood, having to read and edit the details of what she went through was heartbreaking.
I kept picturing my mother as a helpless little girl who was unloved by everyone in her life and this visual was painful on a deep level. Brene Brown once said, "Owning our story and loving ourselves through the process is the greatest thing we will ever do." I found this statement to be incredibly valid, because giving words to our experiences allowed a sense of strength and resiliency to emerge.
Jann — Going back to the sights, sounds, sensations and emotions of the events in order to describe the pain and fear associated with them was difficult for me. However, freedom can not live in darkness. Telling my story after keeping it hidden for so many years gave me another layer of healing and a sense of hopefulness that it might resonate with others.
2. What key messages does your book have for someone who has experienced abuse?
Shari — The message we hope to spread is that all of us have experienced trauma on some level in our lives.  We each hold the power to heal our pain and live the life we have been destined to live if we do the work. In doing so, we have the ability to break the chains that keep us tethered to the unhealthiness of others. When we begin to turn our pain into power, we keep it from passing on to the generations that follow us.
Jann — The message I hope to send is that we can regain what was stolen from us at the moment of abuse.  When I learned to stop thinking of myself as the lost little girl who was unworthy of love, damaged and destined to become my mother, I began to step into a strength I didn't know I had.
When I learned how to give myself the love I never received as a child, I realized that the hatred my abusers had, belonged to them, not me. I want all people who have experienced abuse to know that what others attempted to take from them was never really stolen at all.  Beauty, innocence, love and compassion simply need to be claimed again.
3. How could your book benefit people who are trying to help their loved ones who have experienced past abuse?
Shari — This book offers two perspectives, one from my mom who lived through unimaginable loss and abuse and one from me, as I speak about how distorted thinking and misguided truths impede us from being the best versions of ourselves. We offer tools and strategies for undoing the negative messages that often develop in response to trauma and abuse.
Jann — The more you understand the triggers of your loved ones, the more you can understand how to help them restructure their thoughts and behaviors.  That understanding also can make room for empathy and compassion to grow.
4. How can your book be helpful for counseling professionals?
Shari — Professionals are often taught skills from a textbook, and while those tools and strategies can be so helpful for others, what matters most is helping clients learn how to find safety in their lives so that they can access the thinking part of their brains and make decisions that are healthy.
5. What do you and your mom most hope will be gained by so vulnerably sharing your stories?
Shari and Jann — Our hope is to shine a light on what can happen when one path is chosen over another.  Choosing a different path in our life, often means changing the faulty beliefs we've had about ourselves, the distorted thoughts we've incorporated as truth and the behaviors we've been taught that are no longer serving us.
We want to show that a legacy can be altered forever when one chooses to make decisions differently from those that have been modeled to them.
6.  What makes your book unique from other similar books available?
Jann — When I was going through my therapy, I couldn't find resources that applied to my own circumstances.  Books were written at a level that didn't offer tangible applications to my own healing. I wanted to write a book that spoke clearly about the peaks and valleys that one travels during the healing process and offer practical tools to incorporate along the way.
Shari — Having grown up watching my mom's struggle to find herself, I saw how pain manifests but I didn't understand what I was seeing.  When I gained knowledge about trauma and its impact on those who have experienced it, it became important to explain it on a human, relatable level, rather than from a complicated, psychological perspective.
We couldn't find books that spoke from a very unique mother AND daughter viewpoint on abuse and its impact.  Our hope is that our tandem writing style helps the reader connect with my mom's story, while receiving knowledge from my perspective and experience.
Thank you Jann and Shari! To find out more about the book, as well as having Shari and Jann speak for your conference, retreat, church or organization, go to www.ShariSimmons.com.
Copyright 2018, Julie Sibert. Intimacy in Marriage Blog. Links may be monetized.
Never want to miss one of my posts?  Subscribe via email on this page.  And be sure to join my more than 10,000 followers on my Facebook page and 11,000 followers on Twitter.