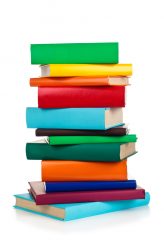 Today I mailed the 10 sex and marriage books in my Great Book Giveaway to Ruth in Texas!  Congratulations Ruth!
I drew Ruth's email address randomly from the 256 entries I received for the book giveaway I did to celebrate reaching 10,000 likes on Facebook.
I am brainstorming on more giveaways, because I want to be a change agent in helping marriages strengthen intimacy.  What better way to do this than to give resources that speak authentically and specifically on how to nurture intimacy?!
But let's not stop at books.
I am also thinking of little things like gift cards (take your spouse on a coffee date, for example — just to spend some time on your friendship. My experience has been that solid friendship in a marriage is one of the BEST precursors to hot passionate lovemaking).
What about a gift card to Honoring Intimates?  Or what about a variety packet of sexual lubricants?
So stay tuned for more giveaways coming your way. Starting soon, I will be pouring a ton more of my heart, soul and hard work into helping you in your marriage (I mean, really…  even more than I already am doing those things, if you can imagine?!!)
What type of giveaways would you like to see? (Within reason $$, because I'm not quite the wealthy sex blogger you may think I am… well… not yet! You never know what 2019 will bring!)
If you have giveaway ideas, COMMENT on this post with those ideas.  Let's all be champions for great sexual intimacy!
Copyright 2018, Julie Sibert. Intimacy in Marriage Blog. Links may be monetized.
Never want to miss one of my posts?  Subscribe via email on this page.  And be sure to join my more than 10,000 followers on my Facebook page and 11,000 followers on Twitter. Oh and don't forget my newsletter! That's a GREAT way to get some info I don't share anyplace else.