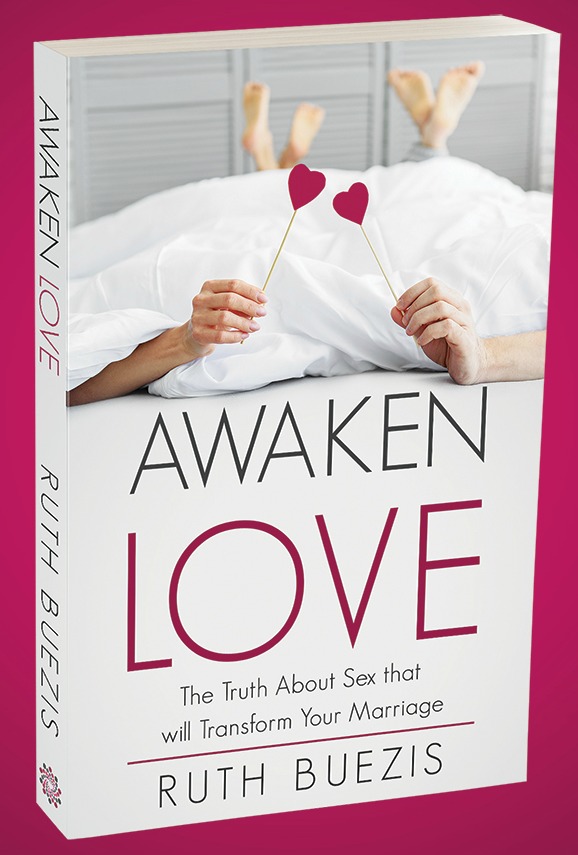 Today's post comes from Ruth Buezis, another champion for healthy sexual intimacy in marriage!  She recently released a book, Awaken Love: The Truth About Sex that Will Transform Your Marriage.
I have read the book and think it's a full of great insights and encouragement, so even if you don't win the free copy, invest in yourself and marriage by buying a copy of it!
*** UPDATE on the winner of the free book… it was Jonathan from California!  Thanks to all who commented!
Read on as Ruth shares…
I don't have a dramatic story like some people. I am just an ordinary woman that through very normal circumstances went looking for deeper intimacy, not only with my husband, but with God.
After a study on Song of Songs, I intuitively knew that figuring out sex was part of the answer. But I don't think I had any idea how profoundly it would change my life. Working on my sex life transformed me and my marriage, and I have spent the last six years sharing that truth in classes, on my blog and now in my book Awaken Love: The Truth About Sex that will Transform Your Marriage.
My husband and I have been blessed with a pretty easy marriage. A couple of rational engineers raised in stable Christian families, we get along well. But in retrospect, we had a safe marriage. We didn't bring up hard things, share our insecurities, pray together, and we didn't talk about sex.
After getting married, we figured out what worked and we just stuck with it. When I felt bored, I would simply imagine the two of us on a deserted beach and create the boost I needed to finish. Honestly, sex didn't interest me much except during those twice a month hormone surges. I controlled when we had sex, based on my physical drive. For me, sex simply satisfied a physical need.
But God created sex for a lot more than pleasure or orgasm. Sex mysteriously binds me to my husband, refreshes me, and communicates things that words cannot. It is a way that my husband and I get to know each other, physically, emotionally and even spiritually.
Now I reach for my husband if I feel stressed, sad or lonely.  When I feel disconnected from him, I know that we need to escape from the world and make love.  Sex has drastically changed from something I did for my husband or to simply satisfy a physical need, to an amazing connection. But it takes work.
Part of my transformation required me to unravel the lies that I believed about sex, myself and even my husband. Constantly bombarded with messages about sex, my lens had changed without me even noticing.
I also had to face my baggage, past situations and messages that caused brokenness. Until I brought them into the light, shame held me hostage. I had things I needed to repent of and other things I needed to pray over. Talking and praying together over sex was hard, but it created intimacy and ultimately brought freedom.
My husband and I also had to work to create a sex life that I loved. Rather than just getting to the finish line, I wanted to create real intimacy. Instead of relying on mechanics, we focused on connection. Sex became a place of discovery instead of a destination. We started talking about sex, sharing more of ourselves, using words to create excitement and tapping into our senses. Sex became something that I craved and it completely changed my marriage.
I never imagined that I would one day write a book about sex. Of course, I also didn't plan to teach Christian sex classes. But God has a funny sense of humor.
After my transformation, I knew I had to share what I had learned with others. In 2012 I started teaching Awaken Love, a 6-week sex class for wives based on my own transformation. What started as a small group of friends gathering on my back porch has since spread by word of mouth to impact over 1,200 women.
I love teaching classes and watching the changes as women uncover the lies they've believed, heal from baggage, and learn the truth about sex. In safe communities, we support each other as we discover freedom in the marriage bed. Videos classes are also available that allow women from all over the world to experience transformation.
I decided to write Awaken Love to remember where I came from and what God has done in my life and in the lives of women in class. It is a book to help you find freedom yourself and also to testify to God's goodness.
Jesus cares about your sex life. He wants to provide healing, newness and growth as you step into God's plan for your marriage bed. Filled with real life stories, respectful information, and practical application, Awaken Love will inspire you to create a sex life that leads to deep intimacy. Don't settle for the status quo. God wants more for you.
Copyright 2018, Julie Sibert. Intimacy in Marriage Blog. Links may be monetized.
Never want to miss one of my posts?  Subscribe via email on this page.  And be sure to join my more than 10,000 followers on my Facebook page and 11,000 followers on Twitter.