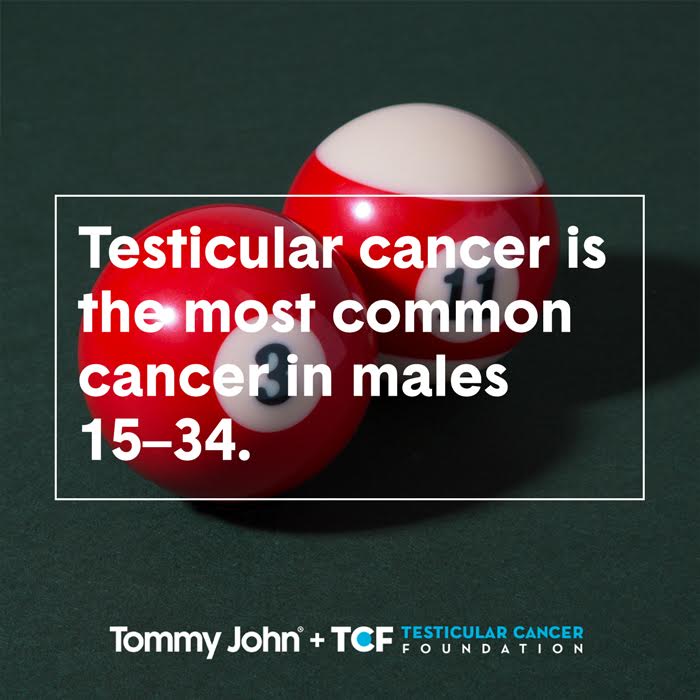 Who better than a men's underwear company to raise awareness of testicular cancer (the most common cancer in males 15-34. Who knew?! Not me).
I also didn't know that 1 male is diagnosed with testicular cancer EVERY HOUR and 1 male dies each day from testicular cancer.
Tommy John wants to get the word out about this important health issue for all you guys.
Kudos to Tommy John for grabbing this issue by the… well, you get the idea.
Here's what Tommy John is doing:
Giving 5% of all sales from their limited "Ball Print" Collection.  You can check out that snazzy collection at this link. Scroll down at that link and you will see the "Ball Print" collection comes in briefs, trunks and socks!
Contributing $10 for each purchase made by new customers referred by someone else.
Entering you into a contest to win $30 in Tommy John credit if in the month of November, you take a picture of any pair of round objects and tag them on Instagram using the hashtag #SupportYourBalls, follow @TesticularCancerFoundation and @TommyJohnWear.
Even if you don't want to get in on the above cool stuff, still consider talking to your husband about doing a monthly self exam, as well as visiting a doctor for an annual physical.
Here's a video on how to do self exam (gals, you could help with this, yes?!):
THANK YOU to Tommy John for partnering with the Testicular Cancer Foundation on this issue! Now let's get out there and save some balls!  Or at least save some in your own home.
Copyright 2016, Julie Sibert. Intimacy in Marriage Blog. Links may be monetized.