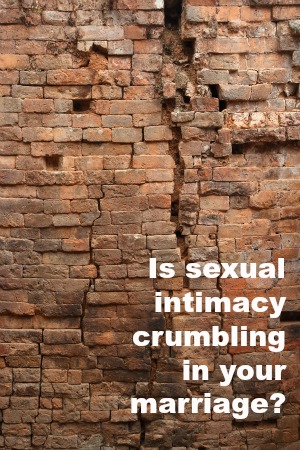 An accidental fire destroyed a treasured old building in Omaha's Historic Old Market District.
What happened before and after the fire started contains three lessons we can apply to marriages that are struggling sexually.
But first, let me tell you about the fire.
Omaha's Old Market is a quaint mix of shops and restaurants, many housed in the brick buildings built in the 1800s and early 1900s in downtown Omaha.
This area is special not only for the people of Omaha, but also for anyone who visits Omaha annually for the Men's College World Series.
An eclectic collection of bars, gift shops, boutiques, galleries and eateries canvas about a 10 block area — and in the upper level of many of the buildings, equally unique apartments and offices.
To say it's a gem would be an understatement.
It finds its past — and its present — securely anchored in an era that thankfully didn't know a thing about cookie cutter construction.  It has forged its footing deep, juxtaposed against the steel and glass and precisely-designed modern buildings that surround it.
The Old Market has offered itself up as the backdrop for countless wedding proposals, graduation photos, family dinners, farmers' markets, romantic carriage rides, street performers, college pizza runs and summer strolls.
It is believed the explosion happened Saturday afternoon below M's Pub, a beloved steady since 1973.  The pub sits in part of the main level of a massive brick building.
Investigations are still underway, but it is believed that a struck gas line possibly triggered a series of events that led to the explosion, which led to the fire, which destroyed the massive building.
It took firefighters more than 30 hours to consider the fire completely extinguished.
More. Than. 30. Hours.  Think about that for a moment.
Did I mention the temperature was frigid the entire time, turning water to ice, ultimately leaving the shell of the building — and everything around it — encased in ice?
So what lessons from this devastating event could we possibly apply to marriages struggling sexually?
I know. You think I'm stretching a bit.
You won't when I'm done.
LESSON ONE: Pay Attention to Your Instincts
It is believed a main reason NO ONE died in this fire is because an aware waitress at the pub took action as soon as she smelled gas.
She asked her coworkers if they smelled anything.  Even when they initially said they did not, she trusted her instincts and went outside to talk to a contractor working nearby.
She asked if they struck a gas line, and they told her they had.
She immediately went back into the restaurant to tell people to get out and to tell the kitchen crew to cut the gas to the stoves and equipment.
She trusted — and followed — her instincts.
The lesson for marriage? When it comes to something that doesn't seem right in your marriage, trust your instincts — at least enough to investigate further if there is a serious problem or a minor problem.
How many serious sexual struggles could be prevented because we heeded the warning of initial struggles?
How many marriages could be saved because of paying close attention to fixing and healing what has gone askew as soon as (or relatively close to) when it has first gone askew?
LESSON TWO: Help Is Not Far Away
I was watching a press conference about the fire, and a fire department official — nearly in tears — said he couldn't express enough gratitude to the nearby businesses and restaurants that invited firefighters and other first responders into their establishments.
Food and coffee and floor space and tables and warmth and encouragement abundantly flowed throughout the duration of this wearisome and dangerous battle.
The fire department official also sang the praises of the American Red Cross and Salvation Army, primarily made up of volunteers who head toward tragic events like this as vital on-the-scene support.
As if that wasn't enough generosity, strangers showed up with cases of Gatorade and food — and many other businesses in the Omaha area contacted the owner of M's Pub to say they want to help however possible.
My point for a marriage struggling sexually? Help in time of need is often not far away at all.
You may be quick to think that sex is a topic that Christians shouldn't discuss, especially if there is sexual disconnect and discouragement in your marriage.
But there is no better time than now to find solid Christian resources on sexual intimacy and sexual healing.  There are numerous books, ministries, and resources — specifically by Christians for Christians — all about sex.
Help is not far away.
But you have to do your part and walk in the direction of help. You will find reassurance and renewed energy to tackle the struggle at hand (just like those firefighters found support when they needed it most).
LESSON THREE:  Sometimes We Don't Know What We've Lost Till It's Too Late
I cannot begin to tell you how devastating it is for Omaha — and particularly Old Market regular patrons — to lose M's Pub, not to mention the other businesses destroyed and the apartments on the building's upper levels.
Isn't that always the case?
When we lose something we treasure, we begin to deeply reflect on its significance to our lives.
When we can't go back to how it was.
When we can't take one more in-person glance at something that was etched in our memories.
It's hopeful that M's Pub and the other tenants affected by the fire will rebuild and again thrive in the Old Market.  If the shell of the building can be saved, maybe devastation of the interior won't sting as bad.
But you and I both know, there is now a dividing point.
Before the fire.
And after the fire.
That's true with devastated marriages too.
Some married couples never resolve their sexual struggles — they either merely exist in a marriage void of authentic sexual intimacy OR they go their separate ways through a divorce.
But whether they stay together in an empty marriage or go their separate ways, they likely could look back on a time when their love was intense and rich — and they'll grieve it may be too late to save what was lost.
Do any of these three lessons resonate with you?  Why?
Never want to miss one of my posts?  Subscribe via email on this page.  And be sure to join my more than 9,000 followers on my Facebook page and 10,000 followers on Twitter.
Copyright 2016, Julie Sibert. Intimacy in Marriage Blog. Links may be monetized.