Few things sabota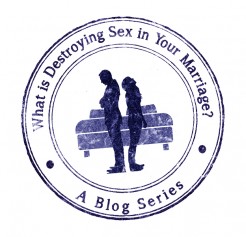 ge sex in a marriage more consistently than low sex drive of one of the spouses.
Frequency of sexual intimacy becomes a battleground, where a husband and a wife have extreme difficulty finding common ground.
Bonny Logsdon Burns of Bonny's Oyster Bed does an amazing job today looking intimately and thoroughly at this issue of low sex drive.
Though the blog post is about low sex drive, I think the post is full of nuggets of relationship gold that you won't want to miss.
Bonny's post is part of my ongoing guest blog series on things that destroy sex in marriage. 
Once the bird seed and bubbles of newlywed bliss settle, most marriages discover that a husband and wife don't quite agree on the frequency of love-making.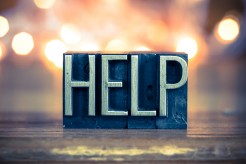 Then arguments build, and pretty soon you have a full-blown battle.
A shiny new marriage usually has plenty of physical urgency coming from both spouses.
So, what happens?
Biochemically, the tingles of first romance putter out after 24 months and one spouse is less motivated to be sexual than the other.
Low sex drive can affect both wives AND husbands.
The low-drive spouse no longer can rely on the lust cocktail of brain chemicals to trigger physical urgency to connect in the bedroom.
The high-drive spouse starts to feel short-changed. Their need, which at first was vigorously met, is slowly brushed to the side and finally lands low on the priority list.
The low-drive spouse starts to feel objectified as the high-drive spouse tries to persuade, cajole and convince their mate to meet them in the bedroom.
Low-sex drive can absolutely destroy sex in marriage.
Having a sexless marriage (sexual encounters less than 10 times per year) can lead to destruction of the entire relationship through adultery. And yes, the straying spouse bears much blame for their wrong choice. However, a low-libido spouse must take the higher-drive needs of their mate seriously.That's part of selflessly loving like Christ.
I'm here to tell you low-libido is not a permanent condition.
It just takes finding what replenishes the desire for sexual intimacy outside of the physical "gotta have you now."
A low-libido spouse has to more fully rely on the spiritual and emotional nature of intimacy in order to desire to connect through sexual intimacy.
This is the blessing of the low-libido challenge. To improve low-libido, it usually involves growing as a couple.
Here are three basics that helped change me from, "No way!" to "Okay!"
Prayer
First of all you must know that it is absolutely OK to pray to God about your sexual relationship with your husband. Just because the church at large cringes at talking about sex, God gives it a big ol' nod!
When I first started praying about my marriage's sexual conflict, I prayed for God to increase my sex drive. That didn't work. So, I prayed for God to decrease his. That didn't work either.
Then, I simply prayed for understanding. This was the prayer God answered (Matthew 7:7, James 1:5, Daniel 2:21).
Love pours into me through conversation. I eventually understood that love-making was my husband's most intimate conversation. For my high-drive spouse, touch said what words could not. Love pours into the high-drive spouse through sexual intimacy.
God placed resources in our path to improve other aspects of our marriage. I came to see that my low-drive was partly from a physical place, but it also had emotional reasons.
Pray for wisdom to know how to connect more fully with your spouse. When you figure out how to connect emotionally with your spouse, you will both feel more "heard." Feeling understood will help a low-drive spouse tap into another libido, the emotional libido.
Sexual intimacy has been compared to the type of relationship God wants to have with us through Christ (Ephesians 3:8-12, Ephesians 5:32), an earthly symbol of a heavenly reality. Pray that you both grow in spiritual maturity to understand this as you walk with the Lord.
And finally, work towards praying with your spouse about your marriage bed. This will help the low-drive spouse tap into the third and most important dimension of libido, spiritual.
Decisions, Decisions, Decisions
It only takes one little decision.
Decide to try meeting your high-drive spouse in the bedroom. That one little decision will spark a change in the entire atmosphere of your marriage. I can 98% guarantee it.
When I finally made my decision to go "all in," I began to do a little studying. At the time, blogs weren't on the radar and there were only a few books on sexual intimacy written by Christian authors.
I bought every one of them and spent a little time each night learning about God's approval of "gettin' busy." Studying God's ideas about sexual intimacy helped me get rid of skewed ideas that remained from pre-marital baggage and understand that I could give myself permission to be a sensual creature.
One little decision led to another little decision to visit the doctor. Which led to other little decisions about medical and scientific research. Which led to another little decision about being actively engaged during each rendezvous.
God's path for your rejuvenated libido may not look exactly like mine. However, if you make the decision to start seeking. He will answer.
Spend Most of Your Non-Work Hours Together
If a marriage is spiraling downward, some spouses run away from each other. I get it. You've been hurting each other with words and you want to avoid being hurt. If you're not in your spouse's presence, you can't be hurt.
However, the answer is to run toward each other when things get tough. Don't look outside of your marriage, especially with a person of the opposite sex, for any kind of emotional validation.
A low-libido spouse must connect emotionally and spiritually with their spouse. Emotional and spiritual libido substitute for the lack of physical urgency.
The way to connect is simple. Spend lots of time with your spouse outside of the bedroom doing fun stuff and having conversations. Optimally, 2 hours a day with just the two of you. But, I realize with young families, that's not easy.
In whatever way you spend time together, avoid being snarky, disrespectful, sarcastic, demanding, threatening and angry.
Author Michele Weiner Davis states, "A more loving marriage may be the only aphrodisiac your marriage needs."
Final Thoughts
It is possible to regain the birdseed and bubbles of newlywed sexual craving. It just might be in a way you hadn't contemplated before.
Pray for resources to help you through the maze of low-libido. Decide to see your marriage as a relationship worth fighting for. Spend more time with your spouse being the person your spouse married; fun, happy, and friendly.
If you do all these things, not only will your libido come out of hiding, but your spouse will probably return all the love you are investing.
I'd like to place a resource in your view right now.
Written for the low-libido Christian wife, Unlock Your Libido: 52-Week Sex Drive Transformation, will help you uncover little known aspects of her lost inner sensuality.  Ramping up lagging libido doesn't happen by magic.  However, it can be an easy journey with profound results by following along with this 52-Week guide.
Although not a Bible study, its foundation is God's Word.  Based upon a 2012 French study, the blend of science and scripture helps wives re-discover their sensual hidden nature, covering not just physical, but also emotional and spiritual aspects of libido.
Each week, a commentary sets the theme.  The key is consistent thought and prayer revolving around the theme.  It only takes 5 minutes a day.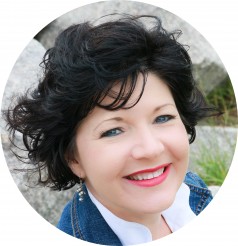 Bonny Logsdon Burns writes to encourage the low libido wife at www.OysterBed7.com. She and her husband, David, are candid about their struggles and victories revolving around sexual intimacy. She is passionate about empowering and equipping hurting women through God's Word and practical tools. They have three sons, like to try new foods, laugh at corny jokes, and dance to their own music. (You can also find her on Twitter and Facebook.)
Never want to miss one of my posts?  Subscribe via email on this page.  And be sure to join my more than 9,000 followers on my Facebook page and 10,000 followers on Twitter.
Copyright 2015, Julie Sibert. Intimacy in Marriage Blog. Links may be monetized.