No one stands at the altar and imagines a day when they stop making love to their spouse.
Some stand at that altar with eager enthusiasm about sex.  Some stand there nervous about it, but still excited about the possibilities.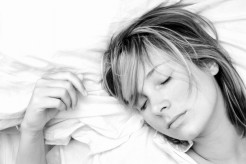 And some stand there with curiosity and questions, wondering what sex will be like in their marriage.
But no one stands there thinking sex will not be part of the endeavor.
Do you remember your wedding day?  Do you remember what you thought about sex?
No matter what was going through your heart and mind on that day with regard to sex, my guess is you still knew that it was important.   Sex was a given, so to speak — a vital expression of covenant love meant for you and your spouse exclusively.
I think sexual intimacy is one of the most difficult things for a couple to navigate over the course of their marriage — particularly if they do not have good communication about their sexual needs, desires and expectations. (Seriously, even when they do have good communication about those things, it still can be hard).
Sex might even be the most difficult thing for a married couple to navigate (if my email in-box, comment stream and conversations tell me anything).
Has sex faded out of your marriage?
If so, I doubt that was a conscious decision on anyone's part.  Unhealthy patterns are usually unintentional.  We drift into them, distracted by the relentless details and busyness of life.
Colicky babies.  Little league schedules. Christmas preparations. Teenagers' activities. Work demands. Volunteer projects that should have received our "no." House repairs. Car repairs. Financial pressures.
Let's face it — a lot of life starts happening after you unwrap the wedding gifts, cash the checks, put away the dress, return the tux and get down to the high and holy calling of being married.
Life gets messy.  And, sooner or later, hard — emotionally, spiritually, physically.
Before long, you find that joys and smiles mingle casually with heartaches and disappointments, as if they are all dinner guests that come and go at random.
This is marriage.
And as much as you thought you were prepared for what makes it beautiful and worthy — and what makes it painstaking and treacherous — you weren't.
That's not a character flaw on your part.  It means you are human.  And so is your spouse.
Has sex faded out of your marriage?
If so, I am going to bet that one of you is in pain over that rejection.  Maybe both of you, but more often than not, when lack of sexual intimacy is an issue, it is a more prevalent issue for one spouse.
I wish I had easy answers (God how I wish that).  But sexual intimacy struggles are often painfully unique, and I don't know your story.
You may have huge hurts and betrayals you are trying to sort out.  You may have a past that is filled with sexual abuse or sexual lies or skewed messages about sex and marriage.  You may struggle with enjoying sexual pleasure and seeing the value in sex beyond the act itself.
You may have simply gotten lackadaisical about taking care of this aspect of your marriage, because you were always banking on there being plenty of time "someday."
Someday after the kids are raised.  Someday after the house is paid off.  Someday after the job isn't so demanding.  Someday.
I don't know your story.
What I do know is that sex is part of marriage.
And more often than not, when a couple could be nurturing their intimacy, but isn't, there is a toll.
Maybe that toll shows up as distance between the two of you or a lack of transparency or a sense that you are really more like roommates or a hunger to be with someone else.
If you know sex has faded out of your marriage, what will it take for you to stop pretending "this is just what happens in marriage" or "we'll figure this out someday"?
No one stands at the altar and imagines a day when they stop making love to their spouse.
No one.
Has sex faded out of your marriage?
Can you get humble and real about that?  And then do something about it?  The elusive "someday" never comes on its own.
Never want to miss one of my posts?  Subscribe via email on this page.  And be sure to join my more than 9,000 followers on my Facebook page and 10,000 followers on Twitter.
Copyright 2015, Julie Sibert. Intimacy in Marriage Blog. Links may be monetized.