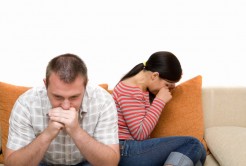 Oh. My.
Every now and then, I come across something that speaks so clearly on a topic that is craving — craving — more clarity.
I recently watched the below webinar with Leslie Vernick and Chris Moles. For quite some time, I have been familiar with Leslie — a Christian author, speaker and counselor who God continues to use to shed light on the havoc that damages marriages.
I know that you are used to me talking about sex (and I know some of you are bummed I haven't blogged lately.  Crazy life.  So much writing to do, so little time).
BUT.
In the mean time, if you want solid and specific information about emotionally destructive marriages and abusive marriages, please please please carve out time to watch this webinar.   And share it with your pastors, friends and family members.
We need more truth spoken on this matter, because so many marriages suffer in silence.  There is much at stake, people.   Much at stake.
We as a body of believers and individually can do better to have the hard conversations on the hard issues that impact God's beautiful covenant of marriage.
Copyright 2014, Julie Sibert. Intimacy in Marriage Blog.