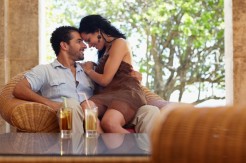 How much do you enjoy your spouse as a friend?
For some marriages (sadly), that's such a foreign question.
Somewhere along the way between the altar and now, they lost track of what it means to be each other's friend.
I personally think friendship is quite the aphrodisiac. Incredibly sexy.
One thing that can radically improve sex in a marriage is friendship.
What?! Not glamorous enough?
Were you hoping I would elaborate on a sexual position or romantic getaway idea?
Yes, those are nice too and certainly have their place, but nothing quite compares to knowing you're giving your whole self to someone you deeply trust as a friend.
In my time as a writer and speaker, I've seen a key difference between those marriages where sexual intimacy is highly valued — and those where it is a huge source of discord and discouragement.
The married folks who absolutely treasure sex more often than not also have a genuine friendship.  At their core, they are intimately concerned with their spouse's wellbeing in the day-to-day ups and downs of life.
And they like doing life together — even with its harshness, struggles and uncertainties.
Though they may argue and disagree (as all couples do), they perpetually rely upon a tone of respect, forgiveness and compassion.
As for the fun and tender moments and all the enjoyable times in life, they would much rather celebrate those together.
What do I see in the marriages where there is sexual distance and struggle?
More often than not, I see two spouses who really don't value each other's company. They don't mutually hunger to do life together.  They have long since forgotten what drew them together in the first place.
They wouldn't consider each other a trustworthy friend.
They've become masters at isolation and guarding their hearts from each other — instead of bearing their souls to each other.
On rare occasion, I do hear from someone who will say, "My spouse is my best friend, but I really don't like sex at all. We just don't need sex in our marriage."
Really?
When I hear that, I'm always a bit suspect.  I wonder if their spouse would say the same thing.
I also wonder if one or both of them is simply trying to convince themselves that they have a marriage anchored in authentic friendship — when really what they have is a friendship with no real evidence of a marriage.
Like I said, though, it's certainly the rare exception when I hear, "We are great friends. But we have no desire for sex."
What about you? What would you say about friendship and your marriage?
I think it is so instrumental and worthy of attention to dig into that question.
In the ebook I recently co-authored, Pursuit of Passion: Discovering True Intimacy in Your Marriage, my fellow co-author (Jeff Murphy) and I easily agreed that where there is great sex in a marriage, you likely will find two people who sincerely believe their friendship is a key tenet to their marriage.
Jeff and his wife Glynis have been marriage mentors for years, so they obviously have countless real-life experiences to back up the high need for friendship between a husband and wife.
Yes, in the book we offer many suggestions on sexual technique and ways to make the most of those moments you are sexually in each other's arms. But a thread throughout the book is appreciating and intentionally seeking a deeper friendship with the person you married.
Profound intimacy — the type of intimacy you long for — is sexual, emotional and spiritual.  A couple is more likely to find that when they take care of their friendship in the rich and holy context of their marriage.
Why not begin 2014 with a renewed focus on being your spouse's friend?
It could be the best decision you make to radically improve your intimacy.
Copyright 2014, Julie Sibert. Intimacy in Marriage Blog.