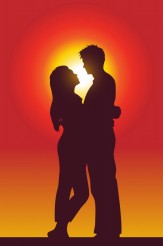 I'm grateful to have a guest post from Tony and Alisa DiLorenzo of One Extraordinary Marriage.  The DiLorenzos are incredibly authentic in being real about their own ups and downs in marriage… and are generous enough to take what they've learned and speak hope to others.  Be encouraged by what they offer today.
(Plus, they have a give-away, so keep reading…)
We want you to think back to a time when you and your spouse were on the same playing field sexually.
What was happening in your marriage at that time that got you to this place? How were you feeling about yourself? About your spouse?
Were you on vacation, away from the day-to-day distractions?
Unfortunately, life does happen and you sometimes lose that sexual high you were on with your spouse. You want to get back to that place, but you are finding it hard to do that. There's a wall blocking the two of you from having the sexual intimacy you desire.
You want sex more and your spouse wants it less and less. 
Here's the thing. In many marriages, there is a high desire and a low desire spouse. In our society the husband has been pegged the high desire spouse, but we're here to tell you that it's not always that way.
There are many wives out there who are ready to jump between the sheets with husbands who have little to no energy to make love. This role reversal leaves many wives and husbands frustrated with the sexual intimacy they both once had and desire in their marriage again.
Three years ago after completing our 60 Days of Sex Challenge and our first of five "7 Days of Sex Challenge," we knew who was high desire and who was low. We knew which one of us would initiate and which one would determine if sex was going to happen that day or not.
The high desire/initiating spouse feels selfish, frustrated, annoyed, and angry when what they perceive to be a fun experience is not happening. Always having to pursue time after time gets old and frankly the rejection that comes most of the time devalues your sense of self worth.
On the other hand, the low desire/non-initiating spouse has the power to decide if sex will happen or not. If you are the low desire spouse, you begin to feel resentful, manipulative, and down right frustrated with your spouse. If you wanted sex you would let them know. You typically only have sex to appease your spouse and, for the most part, the faster the better.
We know both sides of this story, as this was our marriage for more than 13 years.
Tony has always been the high desire spouse and Alisa the low desire spouse. The cycle of initiating and rejection got to the point that we would wonder why we even had to have sex.
Even though we had completed the 60 Days of Sex Challenge and the 7 Days of Sex Challenge, we still had not figured out how to best continue to grow in our sexual intimacy.
The high desire/low desire dilemma was still apparent in our marriage.
That changed one summer day as we sat listening to a couple share what we now call the Intimacy Lifestyle.
The Intimacy Lifestyle is about both of you initiating each week. It doesn't matter if you are the high desire or low desire spouse.
The Intimacy Lifestyle is about both of you being servant lovers and stepping up and initiating sex in your marriage. There is so much to the Intimacy Lifestyle that we recorded an entire podcast, Scheduling Sex, on it.
Please don't miss out on one of the most amazing ways that you can keep the passion, romance, and sex alive in your marriage while still honoring who is the high and who is the low desire spouse.
Are you ready to get that passion burning again? Then it is time to get started!
Pick up the 7 Days of Sex Challenge, complete it, and then start your Intimacy Lifestyle.
The DiLorenzos are giving away one ebook and one audio book of their "7 Days of Sex Challenge."  On Thursday, Feb. 14, at 4 p.m. (CST), I will choose two winners randomly from the commenters on this post between now and then.   Simply make a comment about what spoke to you from this post.  You can use an anonymous name, but be sure to give me a real email address (won't print), so I can contact you if you win!
Copyright 2013, Julie Sibert. Intimacy in Marriage Blog.