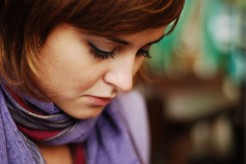 I was so encouraged the other day by blogger Lori Byerly, who shared in her post that when she and husband Paul married, quite a few people doubted it would last.
Lori and Paul just celebrated 28 years of marriage!
While she said they are still learning about marriage, she admitted they have certainly overcome many of the challenges and doubts that plagued their marriage early on.
They have persevered and prospered, despite the opinions of the naysayers.
What about your marriage?
Do you have people around you who think you won't make it?
Together you can prove them wrong! (And I bet many of them, especially those who love you, would happily rejoice in you proving them wrong).
I've always believed that each marriage is unique.
We'd be kidding ourselves if we didn't recognize that some marriages travel a tougher road than others.  Maybe the road is rocky because of past and/or current sin, former relationships, poor communication skills, financial struggles, on-going illness or injury, ex-spouses, jeopardized trust, in-laws, job crises and so on.
To a degree, we all have some baggage.
Sometimes it's baggage we brought all on our own. And if we are honest, we'd confess much of it is baggage we together created after we said our vows.
Regardless of when and how the baggage showed up, unpacking it can be messy, discouraging and downright exhausting.
But God is indeed a redemptive God.
And marriage was His idea.
So, if you've entered into a marriage, you can rest assured that He desires greatly to equip you, grow you and show you how to have a marriage that doesn't just exist — but also thrives and overflows with goodness.
Many marriages designated as "beyond repair" are anything but that.   Instead, they are opportunities for profound transformation.
(Obviously, I'm not suggesting anyone stay in an abusive relationship.  I instead am referring to marriages that are characterized by difficulties that are debilitating, yet not insurmountable.)
Lori and Paul Byerly offer all of us a tender reminder of the power to stay the course toward healthy relationship, even when you can't see it from where you stand in the midst of the storm.
Press into the Lord's heart and Word.  Obey His commands. Pray.  Seek resources. Believe.  Take baby steps.
Remember always that the little things are the big things.  Invest in your marriage often.
If some people believe your marriage won't make it, stop listening to them.
Start talking to your spouse instead.  And start agreeing with God on His vision for your marriage.
That's what Lori and Paul did.
And 28 years later, they continue to be a beautiful testament of compassion, love and belief that "God was big enough to work them out of their messes." (You can read more about their messy history here).
Their story is one of hope.  Could yours be one of hope too?
Copyright 2013, Julie Sibert. Intimacy in Marriage Blog.