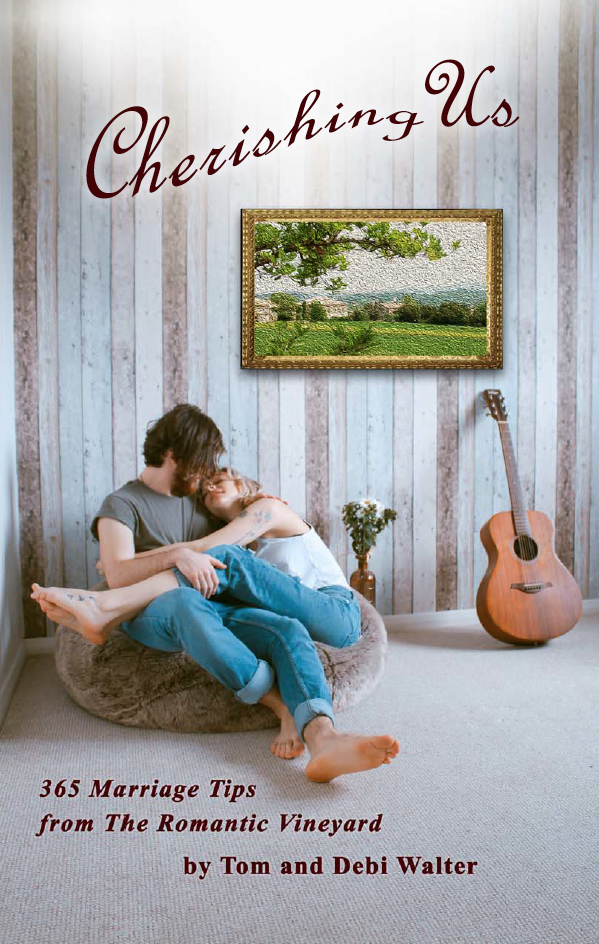 I'm always amazed when couples don't take at least some steps to enrich their marriage — especially when there are so many authentic and easy resources out there to do just that!
If you have yet to take that step, I think you should invest in your marriage with the new book Cherishing Us: 365 Marriage Tips from The Romantic Vineyard by Tom and Debi Walter.
Good stuff in this devotional on nurturing all forms of intimacy in marriage.
Here are the 3 reasons I think you will like the book:
1. It's a Christian resource.
This seems obvious to point out, but I share it more as an encouraging reminder.
As Christians, we know the source of marriage. We know the One who designed the covenant of marriage, the blessing of passionate sexual intimacy, and the tools to help us navigate all of it.
Tom and Debi Walter aren't just in a deep love affair with each other as husband and wife, they also are in a deep love affair with the Savior. And that, my friends, makes for solid biblical insights on marriage.
Cherishing Us is a resource you can trust is rooted in the right place.
2. It's easy, fun and profound.
Cherishing Us is structured in such a way that the tips and insights are easy to dig into.  I'm not saying the conversations they generate will always be easy, but I'm guessing (hoping!) you are looking for some depth. You want to go deeper with this person you married, right?
Cherishing Us helps you unpack hidden treasures in your relationship, as well as build new adventures through countless specific FUN date night ideas. It is full of questions that will inspire you and equip you to better understand the person you fell in love with and to help them better understand you.
You will learn new things about each other, I have no doubt, and strengthen your relationship because of it.
The book is broken up by seasons of the year, but you could start the book at any time and adapt it to your marriage and your season of life. As I am ALWAYS saying with any resource, you have it in you to glean what applies to your marriage and to let go of the rest.
3. It's written by two people who have been doing this marriage gig for a long time.
Tom and Debi Walter have journeyed through ups, downs and countless in-betweens in their 39 years of marriage.  They get it. They understand how hard marriage is and, at the same time, how much potential it has for authentic connection, love and oneness.
I simply trust resources more that come from people who are real. I just do. And Tom and Debi are real.
When they decided to start their blog The Romantic Vineyard and to eventually write this book Cherishing Us, they didn't do it out of a place of having everything figured out. They did it out of knowing they had seen difficult things in their relationship — and they could learn and grow and offer others hope along the way.
I trust their hearts, and I think it is their hearts and discernment that come across so clearly in their book. The fact that they don't want to keep all that insight to themselves speaks volumes on how dedicated they are to encourage others in marriage.
I believe you would be doing your relationship a world of good with this book Cherishing Us. At least take a look, yes? You'll be grateful you did.
For more reading, check out Debi's guest post at Hot Holy Humorous.
Copyright 2018, Julie Sibert. Intimacy in Marriage Blog. Links may be monetized.
Never want to miss one of my posts?  Subscribe via email on this page.  And be sure to join my more than 9,000 followers on my Facebook page and 10,000 followers on Twitter.